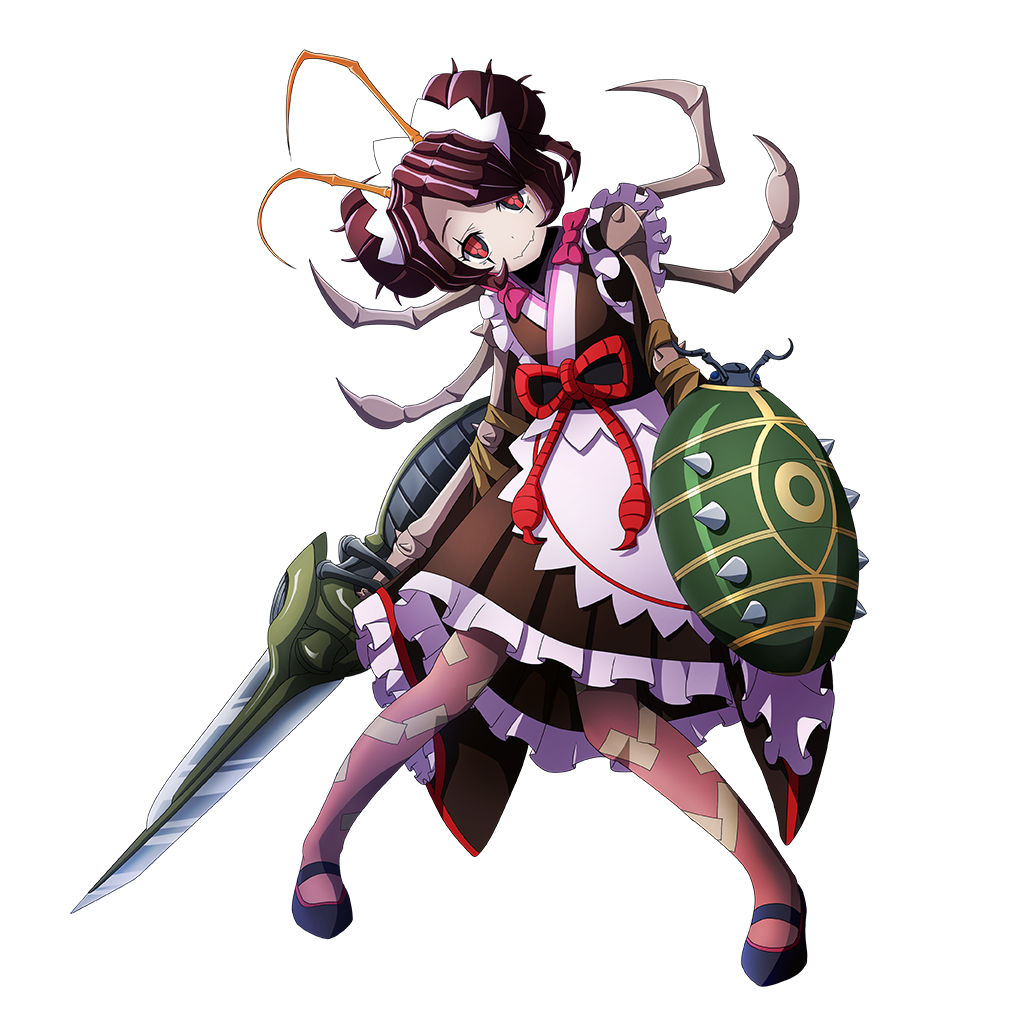 Character name: Entoma Vasilissa Zeta
Race: Insect Role: Tank Type: Speed
Subordinate of Jaldabaoth, a demon lord who led a great number of demons in a surprise attack on the Royal Capital.
Commonly known as the "insect maid." After she finished a job and was snacking on some "leftovers," she encountered Gagaran, a warrior of the Adamantite-class adventurers The Blue Rose, who engaged her in combat. Then Gagaran's comrade Tina joined the fight as well, but Entoma appeared to be strong enough to bring both of them down. However, she had a weakness against Evileye's "Vermin Bane" ability, and thus the tables were turned on her. Although she managed to escape successfully thanks to the appearance of her master Jaldabaoth, because she had lost her "voice," she harbored a strong intent to kill Evileye.
Entoma loves human flesh, and uses cocoons for various purposes, even creating a cute mask out of a cocoon. However, as far as the members of The Blue Rose are concerned, she is a monster. She uses a "lip bug" to produce her cute voice, which was stripped from her by Evileye's "Vermin Bane," forcing her to use her own dreaded voice, which made her want to kill Evileye for what she did.
Her real identity is Entoma Vasilissa Zeta, one of the Battle Maids from the Great Tomb of Nazarick. As part of Demiurge's "Plan," he transformed himself into Jaldabaoth so that he could hide his identity and go outside into the world. If she would ever meet Evileye again, she would like nothing more than to steal her voice. However, if she killed her, she could damage the reputation of the adventurer Momon, her companion, so she'll have to endure and not act on her personal grudge. That's a good girl.