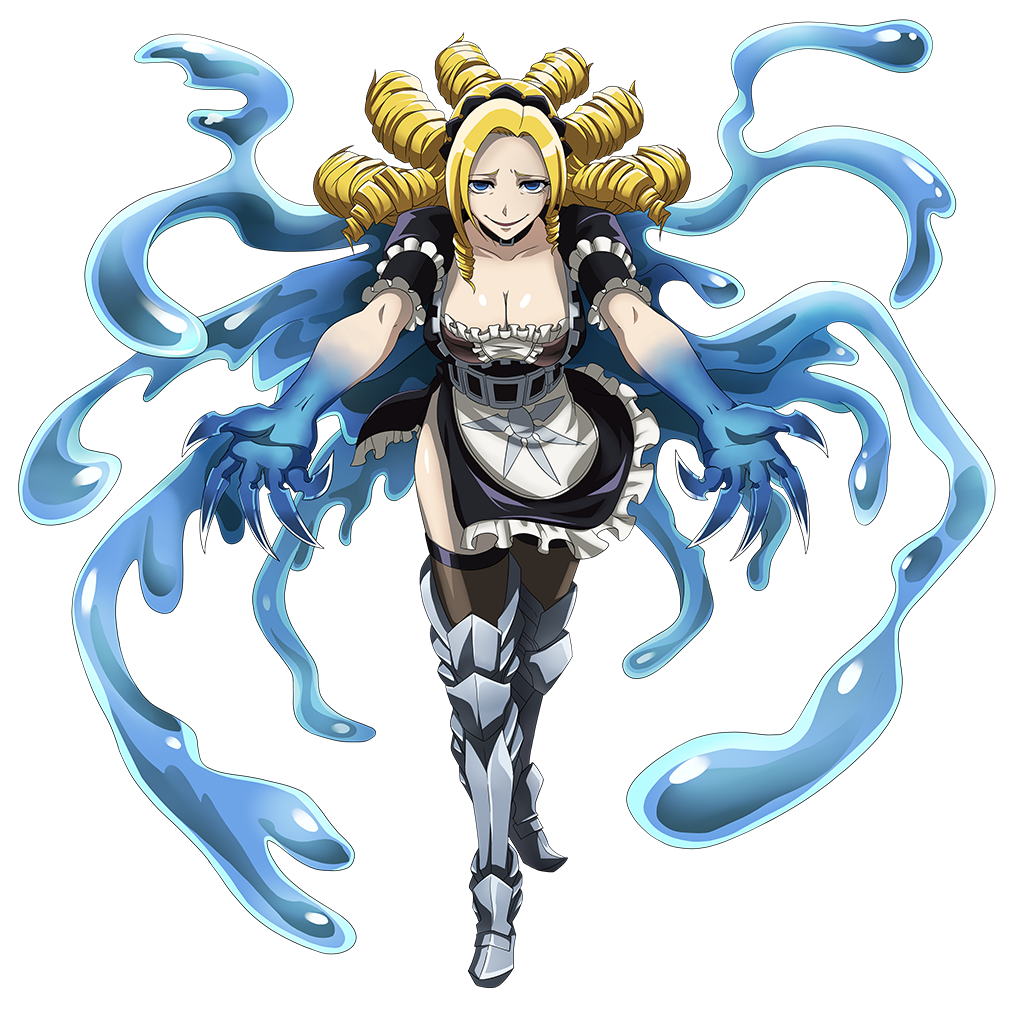 Character name: Solution Epsilon
Race: Slime Role: Enhancer Type: Heart
Solution Epsilon is a battle maid working in the Great Tomb of Nazarick and a member of the Pleiades.
The Pleiades are a team of battle maids led by head butler Sebas Tian, and like ordinary maids who are not tasked with combat, each has a human-like appearance. All of them maintain the appearance of beautiful women and pretty girls, but they're still inhuman. They may not be so lovely on the inside. In addition, when certain conditions are met, and Sebas is not there to lead, the role of team leader switches to the youngest sister whose race is human. The team name also changes to "Pleiades," meaning seven sisters.
Solution is, along with Narberal, the 3rd sister. Whether this means they are twins is not clear, however it has been interpreted that their relationship established by their creators possibly means that they "get along like twins," and the relationship between them is good.
Also like Narberal, she is a dangerous being to humans. However, unlike Narberal who despises and looks down on them, Solution in a sense greatly cherishes humans. Being a slime, she enjoys observing their bodies dissolve, treating them as toys.
Other than being good at scouting with her thief and assassin lineage skills, and her ability to use various magic by "tricking" scrolls, her ability to handle situations in infiltration missions is very high. She has high acting ability and can skillfully behave like a different person. But no matter how pretty, fascinating, or sometimes cheerful, she may look, if you carelessly take on her invitation…what awaits you is her "insides," a painful prison.
Skillfully carrying out difficult missions, she is an impressive girl with a generous smile, but sometimes she gets worried and may also become out of control. When hearing that a slime other than herself was given a special role by the Supreme Being, the honor of cleaning his body, she committed a rash act and hid that slime, Sankichi, out of frustration. The Supreme Being would deem it an "adorable rampage," and fortunately, the incident didn't turn into a big one.