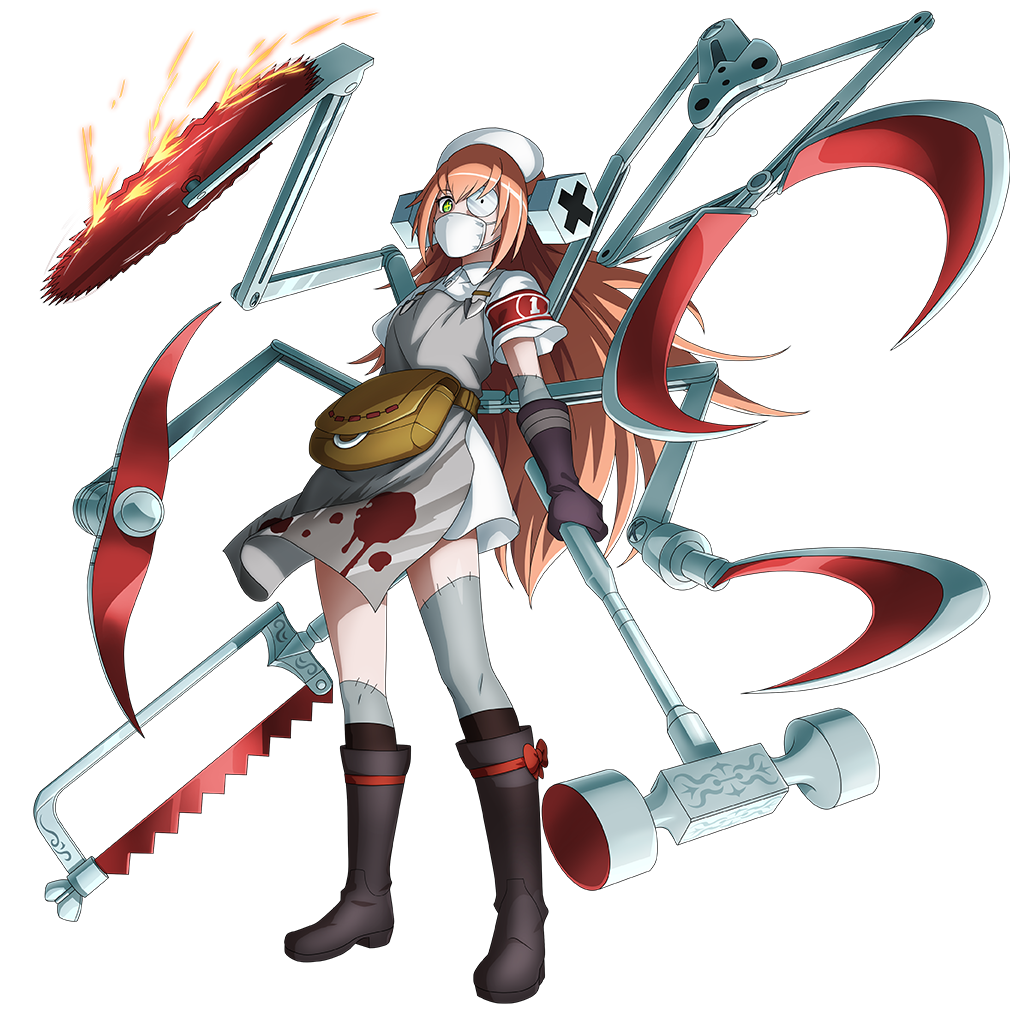 Character name: CZ 2128 Delta
Race: Doll Role: Attacker Type: Power
CZ 2128 Delta is a battle maid working in the Great Tomb of Nazarick and a member of the Pleiades.
This time, she is equipped with equipment prepared to help with a Demiurge-designed plan.
In the plan, her role is to treat the subjects brought away from the city by Demiurge's minions. With an emphasis on efficiency, she is to swiftly heal the severely injured subjects who should appear to gather in an offhand manner.
Upon this, the large saw and mallet held in both her hands play an active role. The saw can easily sever even a muscular warrior's limbs, and by isolating sites contaminated with pathogens, etc., the transmission of contamination to other sites is prevented. The mallet can crush even teeth, the hardest substance in the human body. Therefore, since any bone can be made into fine powder, this leads to the early detection of pathogens lying dormant in bones.
In addition, since she is completely resistant to¥ poisons, there won't be a problem if the pathogens contain toxins.
Also, with the aid of the equipment it seems that she handles the saw and mallet fairly accurately, so the burden on subjects is small since there are no unnecessary movements. This alone is enough to meet the requirements of noted doctors, but that is just a part of her and this equipment's performance.
The true value of this equipment lies in the grouping of arms stored on the back. Each arm has a different medical device at its tip, and by moving it accurately, faster surgeries can be performed. Of course, it shows its true value not only in surgery but also in battle. If by some chance a subject gets rowdy during surgery, they can be quickly taken care of by using the mechanical arms on the back and the saw and mallet in both hands, so she can send subjects with good freshness to Demiurge and Solution.
Nazarick-style examinations never waste, using every part of the subject. The sounds of something crushing will reverberate yet again tonight.